Happy Holidays; Present Professionally
2019 was year of change.  I initiated a major overhaul of the UI on Thyng's mobile application, worked overnight to provide modeling support for live events, and created materials for pitches to potential clients. In May of 2019, I left the Thyng team and began a journey to improve my portfolio.
In July I began a UE4 Modularity class with Clinton Crumpler via CG Master Academy.  Later, I would begin a class with Ben Keeling for Advanced Substance Designer work.  
You can see for yourself the difference between my portfolio before and after these classes.
Before (January 2019)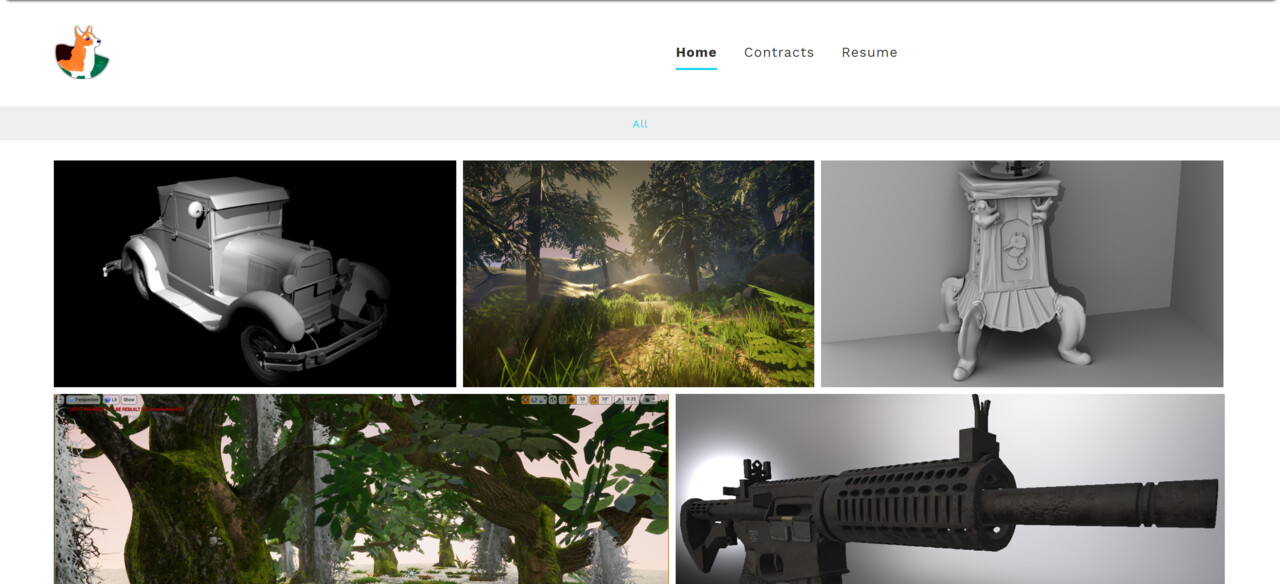 After (December 31st 2019)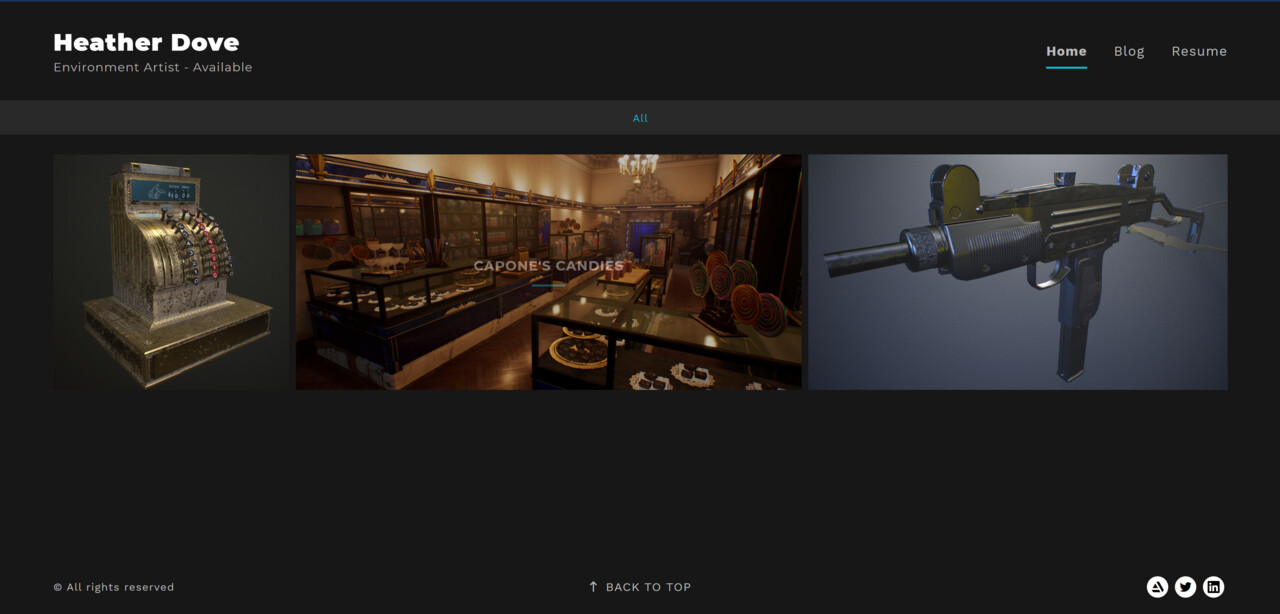 What this means is that by the beginning of October, my entire portfolio consisted of things that didn't exist in July.
With my time of unemployment came some serious introspection and putting my mind to the grindstone.  I made a point to talk to people who had an eagle eye view of where I was and what I should do to get further.  If there is anything I can impart to whomever may read this, it is that it truly does "take a village to raise a child".  Find your village.  I've got more learning to do (with this industry I think that'll never stop), but luckily I'm finding my village too.
My last move of 2019 finished off with a Mentorship with Josh Lynch via The Mentor Coalition.  He impressed on me the importance of brand cohesion and gave more high level feedback on my portfolio.  The most unique aspect of working with Josh was the focused time to all of my "blocker" questions.  
When you're figuring out which path to take, or how best to travel, it is so much easier to walk with a guide who has seen every pit fall you might encounter.  Don't reinvent the wheel: get your hands on the schematics.  I asked Josh what types of jobs were "my level"; which projects I should finish first; if I should move to a new place before I get the job; if my Linkedin photo was okay.
Each of these questions may not be a huge deal alone, but when they're piled up it can make progress difficult.  I'd highly recommend finding a "sensei" you trust with a proven track record so your "what if" blockers can be answered too.    
I can already feel some awesome things on the horizon in 2020.  
For anyone who may be reading this, my time off has been difficult.  It has been hard not knowing exactly where I'll land, or if I even will.  For me personally, having the ability to point a specific moves (these classes, this mentorship, *this blog*), has been immensely helpful for both my quality of work and peace of mind.
Good luck to all of us in 2020 ~ or more accurately, may your hard work beget well earned rewards.  Stay strong!
Work In Progress
As mentioned above, Josh Lynch pointed out the importance of branding in the online 3D space.  With his feedback, I was able to come up with a logo and branding for my resume, cover letter, and art station presence. Some of these have yet to roll out, but expect to see them in 2020!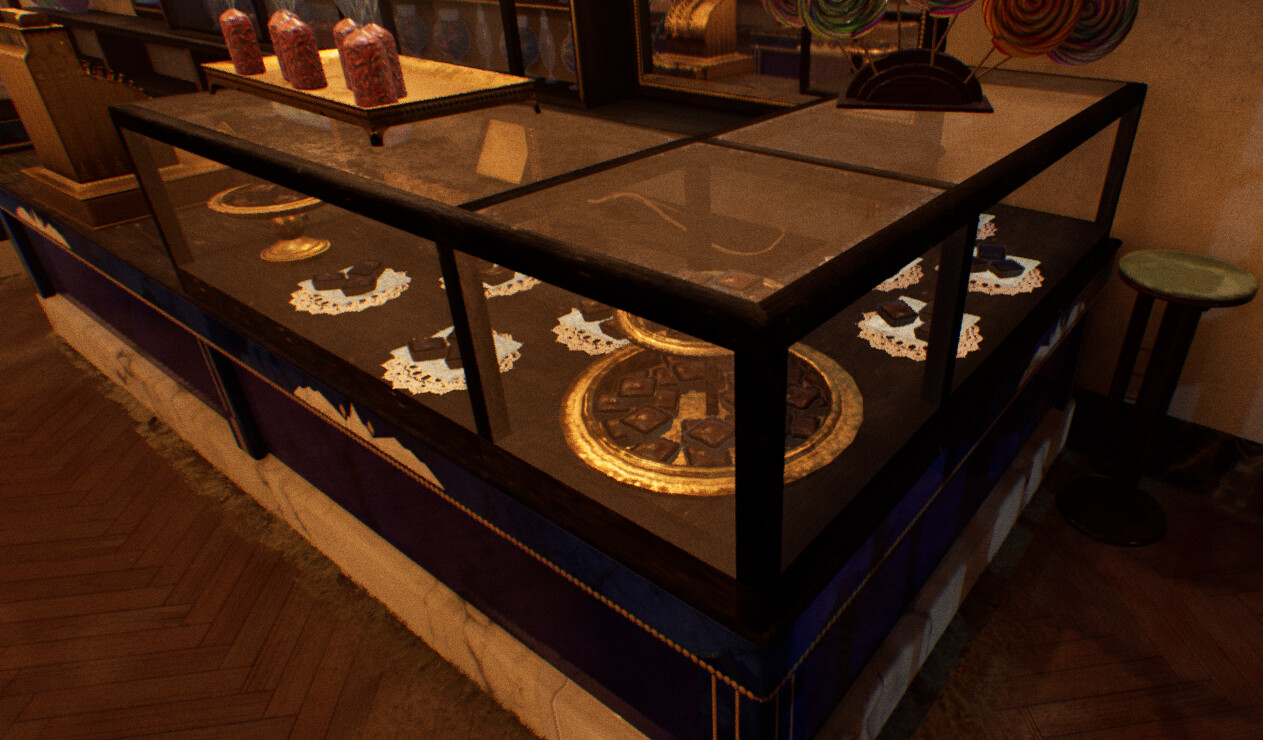 After talking with Josh, one of his points was that the glass and wood in my scene both needed some more loving.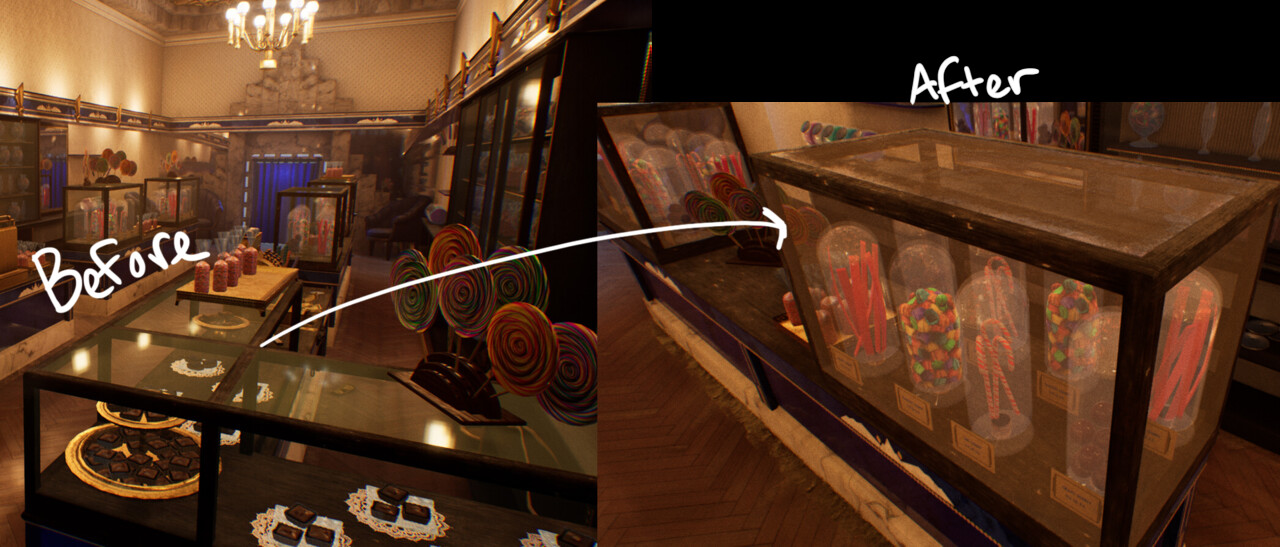 After giving the glass some more thought, I changed the tint from a more blue lean, and gave it some maps to differ lighting based on age or hand prints.
Additionally, I have done a few rounds of iteration on the dust in the shop.  It seems to be a bit too heavy handed on the moment, so I'll pull it back in the next iteration.
Plans for January:
Roll out all branding changes
Capone's Candies

Finish glass changes
Finish dust changes
Adjust money prop to seem less "floaty"
Add detailing to wall paper
Take portfolio shots to display Candy materials and meshes
Begin expansion of area and story